Garmin eTrex 10. Online Help

Howto Install Topo Maps to Garmin Etrex 10:
Firstly check, whether your GPS device is set in "Mass Storage" mode. From Garmin Etrex 10 main menu it саn be checked so: "Setup" -> "System" -> "USB mode" -> "Mass Storage"


Then turn off your GPS device and connect it to the USB port of your PC. Wait while the OS will identify your device as an external drive. Usually the end of the initialization is indicated by switching the backlight of the device and the OS system message that a new external drive is found.


Run Garmin Etrex 10 maps installation file InstallMaps.exe or click the shortcut on the desktop or from the Program menu of your PC. If your GPS device is not connected, not connected properly or simply not yet defined by OS, you will get the following message from the program: "GPS device is not found. Please, check connection and try again"

Attention! The map installer deletes all base map files from all folders //Garmin/gmapbmap.img on all drives, connected to your PC, including the hard disk. If necessary, please take care to save a backup copy of your maps.


Then, in appeared dialog box, by dropdown menu "Device:" you will be prompted to select the unit. Of course, it is necessary to select eTrex 10.
Moreover, you will be asked for permission to Garmin Co. to collect the data, related to your usage of the program. Your consent or refusal will not take any affect on the program functionality.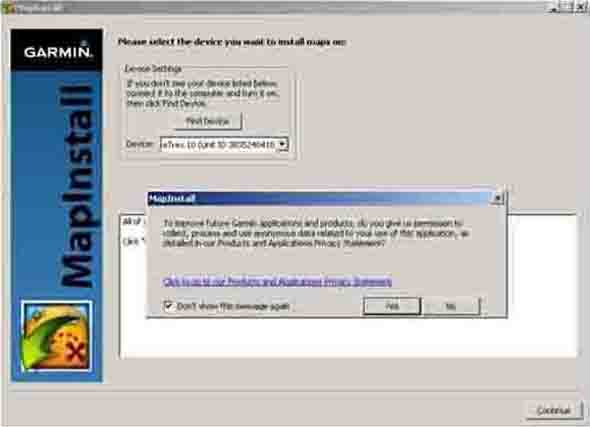 NEXT >>